It's one of the most popular events on the North East calendar. The annual Sunderland International Airshow is returning this weekend and expected to bring hundreds of thousands of visitors to Wearside.
Last year Sunderland City Council said it 'raised the bar' with the 30th International Airshow. Highlights included the Red Arrows flying over the Northern Spire bridge and one of the world's most advanced aircrafts, the RAF Typhoon, brought the aerial display to an end.
Friday 26 July: 2pm – 10pm
Saturday 27 July: 10am-5pm
Sunday 28 July: 10.30am-5pm
---
The Sunderland Airshow have shared the full What's On Guide for the weekend. The three-day event is FREE to attend. Check out the schedule below:
The fan-favourite Red Arrows RAF display team will not be taking to the skies this year, as they set off on a tour of North America.
But there's plenty of performances to see, including a special Battle of Britain Memorial Flight to honour the 75th anniversary of D-Day.
Highlights include the debut appearance by the Swiss Air Force P-7 display team and the return of the Falcons Parachute Display Team.
---
Which aircraft are performing this year?
RAF Chinook Swiss Air Force PC-7 Team RAF Battle of Britain RAF Tycoon Falcons Parachute Display Team RAF Tutor Norweigan Air Force Historical Squadron T33 P-47 Thunderbolt, P-51 Mustang, Spitfire & Hispano Buchon Strikemaster The Blades The Bronco The Fireflies The Tigers Army Parachute Display Team Royal Navy Wildcat and HMS Albans SK35C Draken
---
You may need an umbrella! Heavy showers are expected on Saturday 27 July.
Outlook for Friday to Sunday in Sunderland: Muggy start Friday, with eastern parts possibly staying very warm, and showers, perhaps thundery, likely later. Much cooler Saturday and Sunday, with further thundery showers possible, and perhaps rather cloudy. Highs of 18c.
It's not just performances in the sky, but on the stage too.
On Friday, visitors can enjoy music from the Docksuns and Infernal Bloom on the Introducing Stage, as well as appearances from The Band of Her Majesty's Royal Marines Scotland, a DJ set by Pat Sharpe and songs from emerging Sunderland band, Vandebilt.
With two performances on the main stage, indie-rock band Scouting for Girls, famous for their song She's So Lovely, play at 20:25 – 20:55 and 21:15 – 21:45.
A firework display ends the opening night from 21:50 – 22:00
Saturday welcomes back The Band of Her Majesty's Royal Marines Scotland and features the Hebburn and Sunderland Sea Cadets Band.
BRIT Award-nominated Sophie Ellis-Bextor headlines at 14:15 – 14:55.
Sunday sees the Sunderland theatre group Casa Performing Arts take to the stage at 10:30 – 10:50.
Olivia Glover and Bojangles Ukes are also scheduled to entertain the crowds during the morning and Pat Sharpe returns with a final DJ set at 14:20 – 15:00.
The streets surrounding the airshow site will be closed to traffic.
Information on road closures is on this map.
Park and Ride will operate from 3 different sites throughout the weekend. A return ticket will cost £2.50 per person, with under 5s travelling for free.
Card and contactless payments are taken on the buses.
Accessibility: All buses have space for 1 wheelchair or up to 2 pushchairs.
Your Park & Ride bus will pick you up at the same stop for your return journey, that it dropped you off at.
Park and Ride 1 – Deptford Terrace (SR4 6DD) to Recreation Park
Friday 26 July: Every 20 minutes 2pm-4pm Every 10 minutes 4pm-11pm
Saturday 27 July and Sunday 28 July: Every 15 minutes 9am- 10am Every 7 minutes 10am-6pm Every 15 minutes 6pm- 7pm
Park and Ride 2 – Fulwell Quarry (SR5 2QP) to Recreation Park
Saturday 27 and Sunday 28 July: Every 15 minutes 9am- 10am Every 7 minutes 10am-6pm Every 15 minutes 6pm- 7pm
Park and Ride 3 – Herrington Country Park (DH4 7EL) to Bungalow Café
Saturday 27 and Sunday 28 July: Every 15 minutes 9am- 10am Every 7 minutes 10am-6pm Every 15 minutes 6pm- 7pm
Stagecoach is offering express services on Saturday 27 and Sunday 28 July.
The 510 express shuttle between Sunderland City Centre and Seaburn Recreation Ground will run each day. Tickets will cost £2.10 for a single or £3.50 return.
Pickup spots include: Fawcett Street (outside Wilkinsons and next to the Sunderland Railway and Metro Stations), Wheatsheaf, Stadium of Light Metro, Seaburn Metro, Seaburn Recreation Ground
A frequent service back to Seaburn Metro and Sunderland City Centre will also operate all day.
For extra information on the special timetables,click here.
Metros are expected to be very busy over the weekend, so anyone heading to the Airshow should allow extra time to make their journey.
Extra Metro services will be running to get people home after the event too.
Passengers are advised to alight and board at Seaburn Metro station, which is the nearest station to the seafront.
Those travelling to the airshow can buy a Day Ticket from any Metro station ticket machine for just £3.10 – £5.20 depending on which station they board, or a £1.40 ticket for children 16 and under. The tickets can be used all day allowing passengers to avoid queuing at a Metro ticket machine on their journey home.
Children with an Under 16 Pop card can buy a Child All-day ticket from a Metro station ticket machine on the day for £1.10.
If you arrive at Sunderland train station, you can switch to the Metro to get to Seaburn Metro station. Alternatively, you can walk to the seafront in approximately half an hour.
Parking at Seaburn Showfield (next to Morrisons on the seafront, SR6 8EW) is open for parking on all three days. Click here to buy tickets.
Cost: £10 per car The car park is within walking distance of the event site.
Disabled Parking: Free disabled parking is available at the rear of Morrisons (SR6 8AA) and Seaburn Showfield (SR6 8EW) and follow temporary road signage). Pre-booking is not required. A blue badge must be displayed in the vehicle.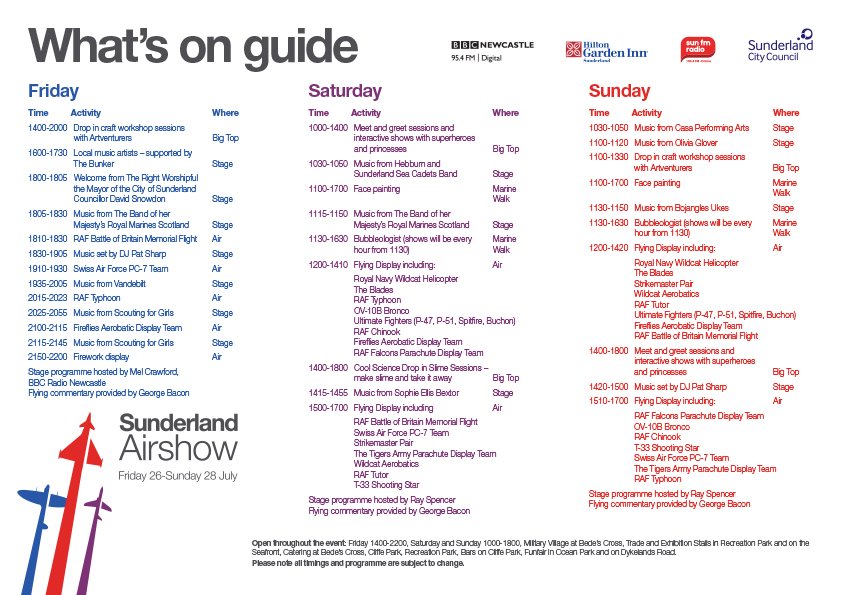 141 total views, 2 views today